Water Heaters from South Shore Heating & Cooling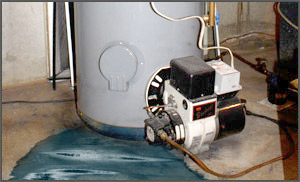 Water heaters often last more than 10 years, but the end can come quickly and without warning. South Shore Heating & Cooling installs replacement water heaters from the best manufacturers in the industry, including direct-fired units with a dedicated fuel burner, indirect-fired units that draw their heat from the boiler or furnace, and electric.
Plan for your water heater replacement in advance, so you know what to buy when the time comes and are not forced into a hasty decision. We work with customers to determine how much hot water you use and what sort of replacement unit makes the most sense for your needs.
To request more information or a free evaluation of your hot water heater, contact us at 508-398-6901.
SuperStor

SuperStor oil-fired water heaters from HTP provide large quantities of hot water without consuming large amounts of energy, thanks to an 82 percent combustion efficiency rating. The water heater's tank is constructed of glass-lined steel and includes two anode rods to protect against corrosion of the tank. With three gallon sizes available, SuperStor indirect water heating systems are designed to produce hot water faster than competing systems at a competitive price.
Bosch

Bosch provides homeowners with tankless, on demand water heaters that provide an endless supply of hot water, while boosting the energy efficiency of a home's water heating system. Many of Bosch's tankless water heaters have built in freeze protection for homes in areas with cold climates. Bosch's Therm C 1210 ES tankless water heater features thermal efficiency of up to 98 percent with a maximum input of 225,000 BTUs. It's capable of heating 12.1 gallons of water 35ºF in one minute and comes with a 15-year warranty and a 20+ year life expectancy. These units are available in natural gas and propane gas models.
Buderus

Buderus, a division of Bosch, manufactures hot water storage tanks that work hand-in-hand with a Bosch/Buderus high-efficiency boiler. The super-insulated design protects against heat loss. Only Buderus hot water tanks are equipped with the thermal glaze DUOCLEAN™—a ceramic that is thermally bonded to the internal components of the hot water tanks. The smooth glass-like coating provides added protection against the corrosive effects of minerals that are naturally present in water. Buderus hot water tanks provide clean, pure, and reliable hot water comfort for many years.
Bradford White

Bradford White's Aero® Series of oil-powered water heaters provides exceptional recovery rates and energy-saving, clean, reliable performance. Rugged, durable and renowned for their high output, these water heaters meet the highest standards in quality and dependability. Standard features include a Vitraglas® lined tank and a ceramic fiber combustion chamber.
We also install:
Amtrol water heaters (MS)
To request a free evaluation of your water heater or inquire about a replacement, contact us at 508-398-6901.