Wide Selection of Boilers from South Shore Heating & Cooling
Boilers are the primary source of heat in many Cape Cod area homes. Many of the newer models that South Shore Heating & Cooling installs improve comfort and energy efficiency. Here is a look at some of the manufacturers that we represent. 
Bosch/Buderus


Bosch/Buderus products are widely acknowledged as the world standard in high-efficiency, low-emission hydronic heating. A cast-iron Bosch/Buderus boiler equipped with the Bosch/Buderus Logamatic Control brings your home into the 21st century, with the option of weather-responsive heating that reduces fuel use at the same time that it greatly improves your level of comfort. 
Weil-McLain

Weil-McLain is a leading designer and manufacturer of gas-fired and oil-fired hot water and steam boilers for space heating in residential, commercial and institutional buildings. The company builds on a tradition of quality and innovation to create high-efficiency equipment with exceptional durability. 
Lochinvar®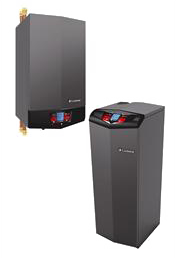 The Lochinvar® KNIGHT® Fire Tube Boiler is the most innovative product on the market, with technology that ensures dependable warmth even on the coldest days, and low energy bills. Boasting a 95 percent Annual Fuel Utilization Efficiency (AFUE) rating, the KNIGHT® boiler uses SMART SYSTEM™ technology to keep your family comfortable throughout the heating season.
With the CON-X-US® option, your dealer can link up through the SMART SYSTEM™ to monitor your KNIGHT® boiler's performance from anywhere!
Available in both standing and wall-mounted models and adapts to your home's water-heating system—there's no need to change the piping to accommodate the boiler, allowing for a faster, more cost-effective boiler upgrade.
Firing rate automatically changes as the heat load varies. Modulating boilers run smoothly and efficiently, without frequent on/off cycling, optimizing performance and reducing wear and tear.
Click here for the product brochure.